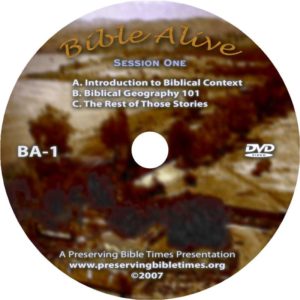 This long-awaited series of five "Bible Alive" DVD's starts with "An Introduction to Biblical Context," "Biblical Geography 101," and "The Rest of Those Stories: The Case for Context" in Session One.
Session II focuses on "Last Supper Seating Protocol," "An Integrated Contextual Framework," "Remez: An Interpretive Tool," "Daily Bread Remez," "Judean Wilderness Flyaround," and "The Five Story Lines of Scripture Framework."
Sessions III of "Bible Alive" features "Living Water," "Kingdom of God in Context," "Jesus Returns to Nazareth," "Simon and the Great Catch of Fish," and "Jesus and the Leper."
Session IV features "Jesus and the Paralytic," "The Calling of Levi," "Engaging a Passage in Context," and "Rescuing the Demoniac.  Session V discusses "Contextual Resources" and interative Q&A with the audience.
This five DVD set allows people everywhere to participate in these transforming weekends of biblical contextual immersion.
$69 for the complete series
Please note – shipping charges are for shipping within the United States. For international shipping, please
contact us
for exact shipping costs.