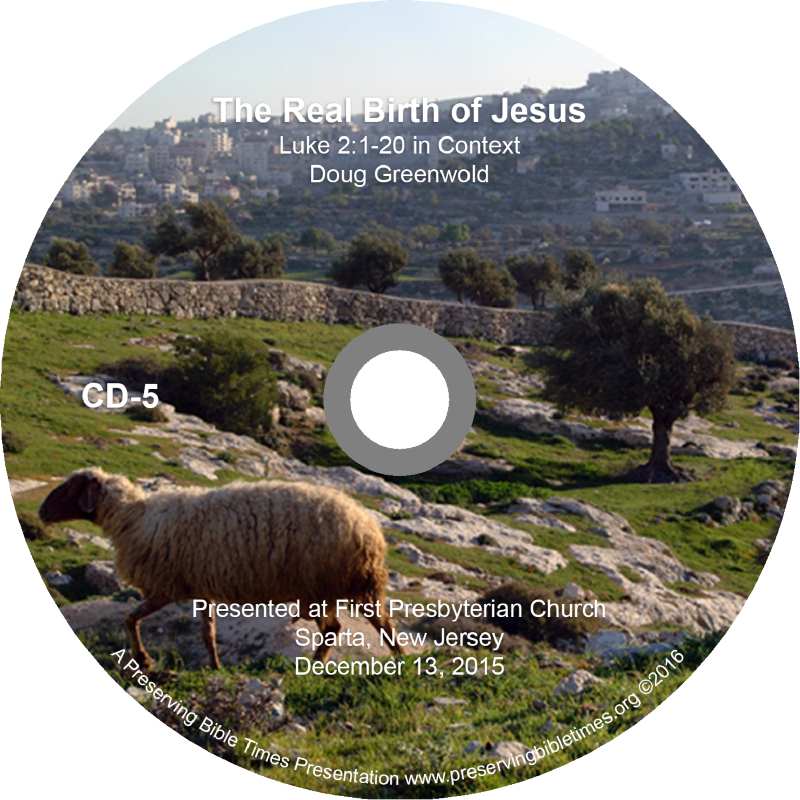 CD 5 "Christmas in Context: The Real Birth of Jesus" — An integrated contextual restoration of Luke 2: 1-20
Alistair Begg once said, "Those of us who know the Bible well suffer from knowing the Bible well." We think we are so familiar with the Bible's narrative that we never explore it further. Often our familiarity keeps us from grasping the real wonder, glory, awe and majesty of what the Scriptures want to reveal to us. That is certainly true for the most "familiar" story of all – The birth of Jesus. In this 65 minute CD, Doug Greenwold presents "Christmas in Context: The Real Birth of Jesus." Learn more than you ever thought possible about the setting and scene of the birth of Jesus. Why were Joseph and Mary living in the north in Nazareth when their clan is living in the south in Bethlehem? What kind of a census was it? Why is the use of the word "inn" in Luke 2:7 an incorrect translation? Who really were those shepherds and why were their sheep in the fields at night, not in sheep pens for protection? If there were no stables, where was Jesus born? Why is there a "shame" motif that pervades the birth of the sinless One? This is just some of what Doug explores as our traditional and familiar notions of Christmas get replaced by the contextual reality of that wondrous birth night.
$5.95
Please note – shipping charges are for shipping within the United States. For international shipping, please
contact us
for exact shipping costs.