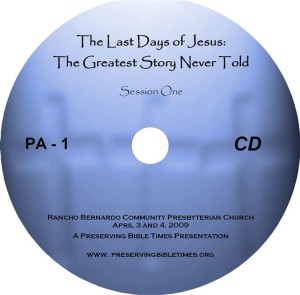 PBT's Lenten presentation, "The Last Days of Jesus; The Greatest Story Never Told," focuses on the last 40 days of Jesus' life. This five and one-half hours of teaching on five CD's contextually explores the Temple Aristocracy, the raising of Lazarus, the calling of Zacchaeus, Palm Sunday, the teaching days, the Upper Room discourse, Gethsemane, Pontius Pilate, Barabbas and much more. The price for the complete set is $49.00.
Please note – shipping charges are for shipping within the United States. For international shipping, please
contact us
for exact shipping costs.