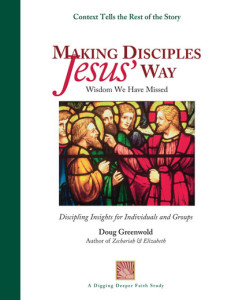 Making Disciples Jesus' Way: Wisdom We Have Missed
Making Disciples Jesus' Way: Wisdom We Have Missed is a book for disciples and discipling practitioners. Its purpose is to challenge and provoke our contemporary Western discipleship and spiritual formation paradigms by providing the contextual backdrop of what it meant to "make disciples" in the Gospels. Then it asks: What are we doing, why are we doing it that way, and what fruit are we getting (or not getting)? The thesis of the book is that when we reconnect with the "make disciples" contextual presuppositions in the Gospels, we can more clearly see the "missing ingredients" in discipleship today.
The book revisits the Gospel record through the lenses of first-century context. In developing its themes, the book expands our contextual understanding of Pharisaism, observant Judaism, the Kingdom of God, the Covenants, the competing worldviews of the first century, as well as related subjects, making it a very helpful contextual backdrop for anyone wishing to understand the issues of the Gospels more deeply.
Look inside: Chapter 5 – "Do and Teach"
Ideal for leadership development, discipleship training, small groups, new member orientation and Adult Education classes, the book's 8 ½ X 11 inch workbook format develops four missing perspectives in our Western approach to disciplemaking (Chapters 1-4), three patterns of Jesus that seem to be missing in our contemporary discipling methodologies (Chapters 5-7), and two oft-missed pieces essential for the fruitful making of disciples (Chapters 8-9).
Softcover $19.95 + shipping
Please note – shipping charges are for shipping within the United States. For international shipping, please
contact us
for exact shipping costs.