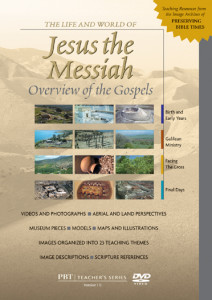 "The Life and World of Jesus the Messiah: Overview of the Gospels" DVD
This exceptional DVD Bible Teacher's Resource features flyover video clips from Preserving Bible Times extensive video archives blended with appropriate still photos, museum piece images, maps, models and illustrations. The first PowerPoint compatible DVD in this series features a representative selection of the the major sites, geographical areas, cultural scenes, museum pieces, maps, models, illustrations, etc., ideal for teaching 23 different themes of the life of Christ from birth to resurrection. Chosen by Bible teachers for Bible Teachers, these images are blended with image descriptions and Scripture references in an attached HTML text file to maximize their use as Bible contextual teaching resources.
Designed to be a visual teaching complement to "The Gospels in Context" resource manual for Bible teachers, this DVD Teaching Resource is priced at $24.95.
$24.95
Please note – shipping charges are for shipping within the United States. For international shipping, please
contact us
for exact shipping costs.