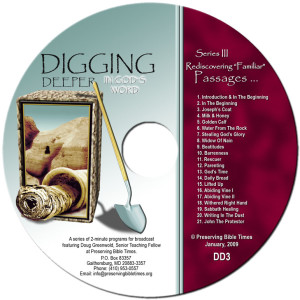 The latest in the "Digging Deeper" radio broadcast series, these 20 contextual segments cover: In the Beginning … Joseph's Coat … Milk & Honey … Golden Calf … Water from the Rock … Stealing God's Glory … Widow of Nain … Beatitudes … Barrenness … Rescuer … Lost in the Temple … God's Time … Daily Bread … Lifted Up … Abiding in the Vine I … Abiding in the Vine II … Withered Right Hand … Sabbath Healing … Writing in the Dust and John the Protester. Once again we realized through the lens of context that there is more to these "familiar" passages than we thought.
$14.95
Please note – shipping charges are for shipping within the United States. For international shipping, please
contact us
for exact shipping costs.