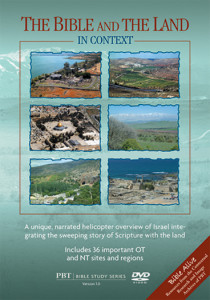 This new narrated DVD takes the best aerial clips from our "Above Israel" series and presents them in the sequence that the Bible unfolds. Thus, it starts with Mt. Hermon footage, where Abraham first entered the land, then presents the various regions of Israel as the sweep of the Bible continues to unfold through the Patriarchs, Joshua & the Conquest, Judges, Prophets and Kings, ending up with Jesus and Jerusalem.
This small group oriented DVD accomplishes three things:
1) Tells the sweeping story of the Bible as it presents the land of the Bible from the air, a most unique and compelling perspective;
2) Comprehensively covers all regions/areas of Israel, and thus is a great introduction to the "Land" for those who have never been, as well as a refresher (from another perspective!) for those who have previously visited Israel;
3) As a fully integrated, narrated product, it will be very easy for anyone to use and understand, even if they have never been to Israel.
$24.95
Please note – shipping charges are for shipping within the United States. For international shipping, please
contact us
for exact shipping costs.