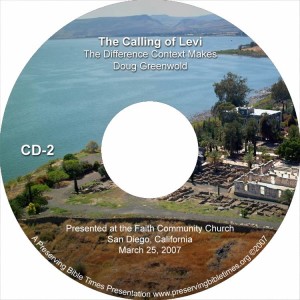 A contextual restoration of Luke 5:27-28 when Jesus calls Levi, a port tax collector in Capernaum, a person whom the rabbis taught could never ever be forgiven. Taught from the first-person perspective of Levi, this teaching weaves together the cultural, historical, literary and geographical context that Luke assumes we would know to further open up this remarkable passage where Jesus demonstrates His authority to forgive anything and everything. This teaching uses the "Five Story Lines of Scripture" framework to draw out the original purpose and meaning of this passage.
Listen to an excerpt:

$5.95
Please note – shipping charges are for shipping within the United States. For international shipping, please
contact us
for exact shipping costs.