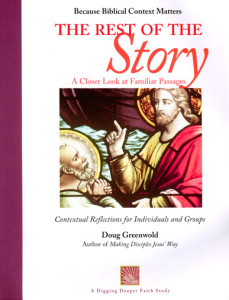 The Rest of the Story: A Closer Look at Familiar Passages
Ever wonder if there's something more you could be getting out of your Bible Study? Could Your Time in the Word Use a Jump Start? This Book is for You!
The text within the pages of The Rest of the Story: A Closer Look at Familiar Passages is like someone pulling the curtain back so you can see the movie that's been playing for quite some time on the BIG screen. While it's been there all along, you just didn't have the capacity to see it due to it being covered up. Within these pages, Doug Greenwold "pulls back the curtain" to help all of us uncover wisdom and insights that have been staring us in the face for centuries. Yet, due to holding onto old paradigms and a lack of cultural, geographical, and contextual understanding, we miss much of the great "movie" of all God has given to us to draw our hearts toward His.
Look inside: Chapter 9
Ideal for small groups, home fellowship and Adult Education classes, the book's 8 ½ X 11 inch workbook format encourages transformational journaling and pondering as it creates a sense of discovery and excitement by digging more deeply into God's Word through the use of historical, cultural, literary and geographical context.
Softcover $19.95 + shipping
Please note – shipping charges are for shipping within the United States. For international shipping, please
contact us
for exact shipping costs.